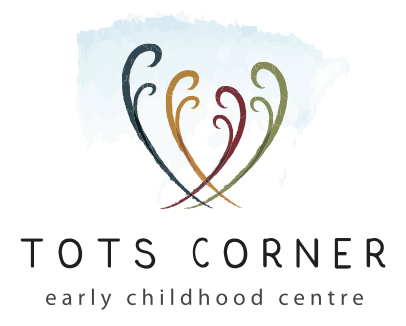 A community of learners where learning is viewed and valued as a lifelong journey, filled with potential, exploration, wonder and delight.
Welcome to Tots Corner – Northcote
Conveniently located on Onewa Rd, this historic villa has offered high quality early childhood education and care since 1993. Tots (as it's affectionately known) is licensed for 37 children from 6 months to school age. This converted villa has three spacious learning spaces, naturally separating into two environments for children aged 2 to 5 years and a third nurturing space for children under 2 years. The large front yard is designed to offer challenges for the older children with a separate safe multi sensory outdoor environment for our under 2's.
We offer education and care between 7.30am and 5.30pm Monday to Friday and are open all year except for a two week period over Christmas and the New Year. This gives children and teachers time to re-energise both mind and body.
"The centre has a history of positive ERO reporting. Effective leadership, connectedness with families, and high quality care for children are the characteristics that continue to define the centre". Education Review Office Report (2018)
Our teachers/ kaiako are all registered, passionate and dedicated to providing high quality learning experiences and environments for children and their families. We have a deep commitment to ongoing self-review and continue to engage in multifaceted professional learning.
"A strong, shared vision guides practices. The emphasis is on enabling children to make decisions and manage their own learning as capable and competent learners. Children's thinking is challenged through conversations with teachers, and their interests are recognised, nurtured and extended".  ERO (2018)
Learning Space
 
The environment is viewed as the 'third teacher', a philosophical stance that necessitates a richly resourced environment, valuing both aesthetics and beauty as a teaching tool that is flexible and dynamic.  Stimulating children's engagement, imagination and exploration of both learning materials and spaces.
"Well resourced learning areas encourage children to explore the environment, and promote their curiosity and theorising about the world they live in". ERO (2013)
The visual presentations on our walls show exciting investigations inspired by the children's interest and echo the children's voices. It is a place where the inspiration of the Reggio Emilia philosophy meets New Zealand culture to create a challenging yet supportive and encouraging environment. 
"Learning through play is highly valued by teachers. Creativity in all its forms offers opportunities for children to explore, experiment, design, make and record their thinking". ERO (2018)
THE NEST
A very special place for our youngest children 6 to 24 months.  The Nest is located in the heart of the house, with a spacious sleep room that opens off the main play space. A separate outdoor garden is accessed off the villa verandah by wide accessible steps. The two teachers are supported by a teacher aide, who together strive to provide a calm, nurturing environment, supported by strong relationships that foster a sense of belonging and well-being. Recognising and igniting their critical thinking as they engage in 'daily wonder'.
"Complementing the practices outlined in Te Whāriki, the early childhood curriculum, teachers are inspired by the practices from Reggio Emilia. Together this respects children as capable and competent learners and decision – makers". ERO (2018)
KIWI ROOM
An inviting space for our two to three year old children, who are competent and capable, encouraged to be independent explorers and learners, whilst building relationships with others. A wide range of opportunities are available to them to support discoveries, creativity, prompt problem-solving and challenges as they play together.
"Teachers extend opportunities through their conversations with children. Helping to build children's persistence, research and experimentation, leading to learning that affirms their sense of themselves as successful learners and leaders". ERO (2018)
TUI ROOM
A space where our older children are entrusted to make their own choices, encouraged to pursue critical thinking and facilitate complex play opportunities. Teachers enhance opportunities for investigations, problem solving, imaginative and creative play with the use of carefully selected provocations, meaningful conversations and a variety of resources and tools.
"There are high levels of sustained and self-extended play. Children cooperate and collaborate in ways that recognise others rights, demonstrating well-developed social competence and care for others".  ERO (2013)
"Teachers plan excursions and experiences beyond the centre to broaden and enhance children's knowledge and learning". ERO (2018)
Our curriculum is encapsulated by two fundamental approaches that guide and inspire our work with children and adults. We recognise the socio cultural basis of learning in the early years based on Te Whāriki, the NZ Early Childhood Curriculum and critically reflect on the principles that underpin the Reggio Emilia Approach.  This in turn enriches our curriculum.
The ongoing pedagogical research between teachers/kaiako, children, parents and the community creates many opportunities for authentic teaching and learning. The knots and complexities that emerge from these encounters support us to look and think more closely at the education we offer our children.
"Research is a habit of mind… It is a response to curiosity and doubt. It con­structs new knowledge, makes for critical thinking and is part of citizenship and democracy. Research is not a solitary activity, but a process of rela­tionships and dialogue".

Carla Rinaldi & Peter Moss (2012)
"Teachers continue to sustain the excellent quality of programmes for children by maintaining the high standards they have set in teaching and learning practices". ERO (2018)
Kāhui Ako – Community of Learners
Tots Corner is an active participant in the Northcote Community of Learners (NCoL),  together with Northcote College, Northcote Intermediate, Northcote Primary, Onepoto and Willow Park Schools and Northcote Baptist Community Preschool.
Our priority is to build a community that inspires learning. We aim to grow community support for a cohesive educational pathway that delivers success for all Northcote learners from early childhood through schools and beyond.
 Ahakoa he tino rerekē hoki te  ao o te kura ki te ao, o te hau kainga, ka tupu tonu, ngā ākonga. Mehemea he maha ngā arawhata i waenganui I ngā ākonga kia whiti ai ki ngā huarahi wāia, ōtira ki ngā whenua, o tauiwi.
Viviane Robinson 2011 (translated by John Marsden)
'Although the worlds of school and home may differ greatly, students will thrive if there are enough bridges between them to make the crossing a walk into familiar, rather than foreign territory.' Viviane Robinson 2011
95 Onewa Rd, Northcote, 0627 Auckland